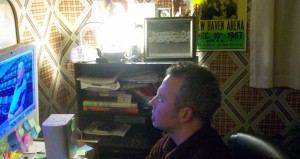 Welcome to the newly-updated web presence of Loose Gravel Films. I'm excited for everyone to see what I've been up to. Stay tuned and check back often to see the great things that have been happening. Don't forget to follow me on Facebook.
My name is Andrew Lilley and I am a filmmaker. My mission as a filmmaker is to bring stories to life on film so they may continue to live on generation after generation. There is a reason certain stories do not simply fade away into obscurity. Perhaps they say something about the human condition, and no matter what decade or century the story takes place, they will always speak to us on a very personal level.
You likely are visiting my website because of a recent showing of "I'll Knock a Homer for You: The Timeless Story of Johnny Sylvester and Babe Ruth" which recently aired on great television networks like WNET Channel 13 in New York and NJTV out of New Jersey. I'm thrilled you're here so feel free to look around. If you have any questions regarding the documentary, would like to set up a screening of the film, or would like to learn more about my other work, please don't hesitate to contact me.