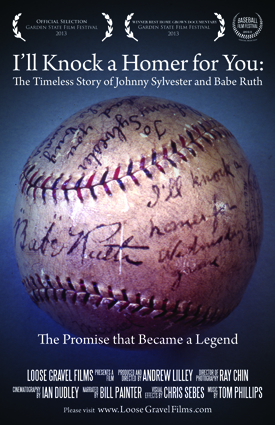 How It All Started…

I can remember my father telling me the story of Johnny Sylvester and Babe Ruth when I was a child. Babe Ruth promised to hit a home run for an ailing boy named Johnny Sylvester during the 1926 World Series. The Babe later visited Johnny at his bedside in Essex Fells, New Jersey to cheer him up. From this charmed sequence of events, a legendary story was born.
This story has often been debated and romanticized in baseball lore. Hollywood has even portrayed it (although inaccurately) in several films including 'The Babe Ruth Story' starring William Bendix and 'The Babe' starring John Goodman. But the story itself never needed any embellishments. Johnny Sylvester was my father's uncle, and I had the pleasure of meeting and visiting him when I was a kid. My documentary will shed light on the mystique of the 1926 World Series, and tell how a promise became a legend.
At Bergino's Baseball Clubhouse in Manhattan, I had an exclusive showing of the two minute trailer for my documentary entitled 'I'll Knock A Homer For You: The Timeless Story of Johnny Sylvester and Babe Ruth'. Also present was Philip Lilley (my father), John Sylvester Jr. and historian/author Charlie Poekel. All were all interviewed as part of my film. Charlie Poekel also signed copies of his book 'Babe and the Kid'. My trailer was well-received, and a great time was had by all.
Please stay tuned for more details, and join "I'll Knock a Homer for You" on Facebook to keep up-to-date!(www.facebook.com/knockahomerforyou). Twitter: @AndrewLilley99
'I'll Knock a Homer for You: The Timeless Story of Johnny Sylvester and Babe Ruth' won the Award for 'Home Grown Documentary Feature' at the 2013 Garden State Film Festival.
Here is a list of the winners:
'I'll Knock a Homer for You' has been gaining momentum. View the media links below to see who is talking about it!
Babe Ruth's great-grandson, Brent Stevens, recently spoke with me about cinema, the Babe, and my new documentary. Click the link below to read:
My interview with Babe Ruth's great-grandson at baberuthcentral.com
The New York Film Academy posted a great blog for the film on their website:
NYFA on 'I'll Knock a Homer for You'
Sports Collectors Digest wrote a feature in their publication about my film:
Sports Collectors Digest article on 'I'll Knock a Homer for You'
Jim Beckerman of New Jersey's The Record spoke with me about my film and it appeared in the Sunday April 7th edition of the newspaper. It is also available online – click this link to read the article:
Jim Beckerman of New Jersey's Record interviews me
The April 18th Edition of the Caldwell Progress Newspaper mentions my award from the 2013 Garden State Film Festival: 
New Jersey's The Progress announces my win at Garden State Film Festival
I spoke with radio host Bert Baron of Talk Radio WCTC 1450 AM on 5/1/2013. Click the link below to listen:
The New Jersey Motion Picture and Television Commission press release for 'I'll Knock a Homer for You', Click on Bulletin Board on left hand side of this link below to view: